Skip to Content
Our Office
The staff here at Elite Dentistry of Johnstown is lead by Doctors Kevin and Shannon Pursel. We have two assistants, one EFDA (expanded functions dental assistant), three hygienists and three administrative personnel. A dental assistant is a dental health professional who works closely with and under the supervision of a dentist. They work with patients by performing tasks before and after the dentist meets with the patient as well as assist the dentist during certain dental procedures.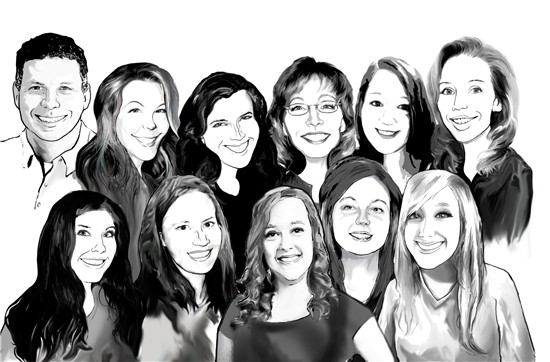 From top left to right: Dr. Kevin, Dr. Shannon, Amy-Dental Assistant, Judi-Financial Coordinator, Alicia-Administrative Assistant, Kris-RDH, Lisa-RDH, Kristen-EFDA, Brittney-RDH, Jonna-Office Manager, Carissa-Dental Assistant.
About Our Staff
An EFDA is a highly trained and skilled dental assistant who receives additional education to enable them to perform reversible, intraoral procedures, and additional tasks (expanded duties or extended duties), services or capacities, often including direct patient care services, which may be legally delegated by a licensed dentist under the supervision of a licensed dentist. An RDH (registered dental hygienist) is a person trained and licensed to provide preventive dental services, such as cleaning the teeth and taking x-rays in conjunction with a dentist. Our office is a close-knit, family-like environment. We know our patients and their families by name. Everyone is welcome here! We are an advanced office and have many services to offer to patients of any age.